Guitar.com (UK), by Neil Crossley July 22, 2021:
When someone of the stature of Buddy Guy starts telling anyone who will listen that you are "the next explosion of the blues" then it's safe to assume you are doing something right. Such is the case with Christone 'Kingfish' Ingram, the prodigious guitarist from the town of Clarksdale, Mississippi, who emerged onto the scene in 2019 at the age of 20 and became a contemporary torchbearer for Delta and Chicago blues.
No Depression, by Grant Britt, July 22, 2021
"Get up early in the morning / stay up all night long / drive 500 miles / just to play a coupla songs / Ain't no shortcuts, that's what you do for the blues," Christone "Kingfish" Ingram says on "That's What You Do," from his latest Alligator release, 662. "Live out of suitcase / no time to wash my clothes / love to stick around / but I gotta hit the road," Ingram tells any would-be entanglers of his dedication to his craft.
Rolling Stone France, by Xavier Bonet, July, 19 2021
In Mississippi where he was born (Clarksdale), everyone moving from near or far in and around the blues sphere has had Chimene's eyes on Christone Ingram since the first day he took to the stage.
Logically, since the one who is no longer a kid (22 years old) has always glued his audience with what he is able to do with a guitar in his hand. It remained to not go too quickly in work with him on the pretext that we held there potentially "a" future of the blues.
Blues Magazine (Netherlands), July 17, 2021
Blues guitarist and singer-songwriter Christone "Kingfish" Ingram will release his album '662' on July 23 through Alligator Records. '662' is the 22-year-old artist's second album, following his 2019 debut album 'Kingfish'.
In 2020, Ingram won a whopping five Blues Music Awards, including Album Of The Year, Contemporary Blues Album Of The Year, Best Emerging Artist Album, Contemporary Blues Male Artist Of The Year and the coveted award for Best Guitarist. In 2021 he again won the awards for Contemporary Blues Male Artist Of The Year plus Best Instrumentalist at the BMAs. He has also won four Living Blues Awards, including Album Of The Year and Artist Of The Year! Not nauseous for a 22-year-old!
Blues Rock Review, by Willie Witten, July 20, 2021
Following his critically-acclaimed eponymous debut, Kingfish, Christone Ingram returns with an album whose content and character similarly reflect its title. If Kingfish were the person, 662 is the place, and the music within reaches beyond the straightforward blues-guitar explosion of the first offering, while simultaneously providing listeners with a more intimate look at the man behind the guitar.
Glide Magazine, by Jim Hynes, July 20, 2021
When Christone 'Kingfish' Ingram broke through two years ago this writer began his review for another outlet with these words "Welcome to the anointing." By now, blues fans already have accepted the young phenom as the future of the blues.  Glancing at this summer's various festival lineup 'Kingfish' not only appears as a headliner at blues festivals but at roots and rock festivals too.  He's got some pressure on his shoulders now, carrying the torch of traditional electric blues to the younger generation.  On 662, named for his birthplace, the area code for the six counties in Northern Mississippi, the now 22-year-old 'Kingfish' acknowledges both maturity and the mantle he wears. 
Rock And Blues Muse, by Mike O'Cull, July 22, 2021
22-year-old blues phenomenon Christone "Kingfish" Ingram blows past all expectations on his brand new Alligator Records release 662. The record drops on July 23rd, 2021 and shows the young guitarist, vocalist, and songwriter growing and maturing in a very public way. Kingfish again worked with Grammy-winning producer Tom Hambridge on the set and the pair created a pumped-up and profound batch of new music that's sure to be another important chapter in Ingram's already-illustrious story.
Blues Enthused, July 21, 2021
Now, I know what all the guitar freaks will be asking about this second album from Clarksdale "prodigy" Christone 'Kingfish' Ingram: is the kid still the next generation fretboard hero?  So let's address that point right away, shall we? Yep, have no fear, the Kingfish continues to shine when it comes to the plank spanking. Me, I'm more interested in the big picture – the guitar for sure, but also the songs, the arrangements, and Ingram's singing.  From that standpoint, the opening title track '662' ticks all the boxes.
Rockin' Magpie blog, by Jack Kidd, July 17 2021
Sophomore albums are always real tricky, especially when your debut effort gained so many accolades and won so many awards, eventually being nominated for a Grammy. For a young man such as 22 year old Christone "Kingfish" Ingram being born and bred in the 'Birthplace of the Blues,' has somehow given him more than enough ammunition to avoid the well documented pitfalls that beset so many follow ups
Blues Blast, by Marty Gunther, July 15, 2021,
Already an incomparable talent in his early teens, Christone "Kingfish" Ingram was a star long before he went into the studio to record his first album. Since the release of Kingfish in 2019, he's reached the stratosphere in the blues world, earning seven Blues Music Awards and a Grammy nomination in the past 18 months alone. But as great as those accomplishments have been, the 22-year-old powerhouse is headed for new heights with this CD.
Paris-Move/The Blues France, by Patrick Dallongeville, July 13, 2021
Native of Clarksdale (in the heart of this famous Mississippi Delta which gave the blues so many of its historical figures), the young guitarist-singer Christone "Kingfish" Ingram published, two years ago (and at barely twenty-two), his first album on the most prestigious label in this register. It had to be promising, since godfathers such as Keb 'Mo, Buddy Guy and Billy Branch vouched for it. Rightly presented by Bruce Iglauer in person as one of the most plausible challengers to embody the new generation of blues, this boy now faces the always delicate test of the second album. "662" is the Mississippi dialing code that saw him birth and flourish, and where he still resides today.
Blues Rock Review, video interview by Pete Francis, July 5, 2021
Christone "Kingfish" Ingram joins the Blues Rock Review to discuss what prompted his quick ascension in blues rock, potentially collaborating with Gary Clark Jr., Robert Johnson's mysterious past, whether he would be interested in being cast in a Crossroads movie reboot, and his new album, 662, available July 23.
KCRW, Top Tune, July 2021
Temperatures are rising all over, but Christone "Kingfish" Ingram is really turning up the heat with a scorching track called "662," named after the area code for Ingram's hometown of Clarksdale, Mississippi, where he is redefining the blues via killer guitar work and heartfelt lyrics.
Concert Monkey (Belgium):
Born on January 19, 1999, in Clarksdale, Mississippi, Christone Ingram fell in love with music as a small child. There was always music in the house. His family sang (and continues to sing) in their family church. His mother, Princess Pride, is the first cousin of country music legend Charley Pride. Christone started playing the drums at the age of six and started playing the bass at the age of nine. Around that time, his mother enrolled him in a program at the Delta Blues Museum. He got his first guitar when he was eleven. The young prodigy has recorded music from Robert Johnson to Lightnin' Hopkins, from B.B. King to Muddy Waters, from Jimi Hendrix to Prince.
Guitar World, my Michael Astley-Brown, May 14, 2021
Christone "Kingfish" Ingram is one of today's leading blues torchbearers. The 22-year-old phenom celebrates his Mississippi roots with a driving, sizzling new single, 662. 662 packs a spanky riff and Chuck Berry shuffle, punctuated by Kingfish's trademark beyond-his-years phrasing and rich vocals. And just when you think the track is over… another monster of a lead rears its head.
Guitar World, by Jackson Maxwell, May 14, 2021
Only 22, Christone "Kingfish" Ingram has already made his mark as one of the best, and undoubtedly most exciting, blues guitarists in the world. On 662 though, Ingram takes things all the way back to the place that shaped him, his hometown of Clarksdale, Mississippi. Anchoring the song with a hot-rodded, Delta–by-way-of-Chuck Berry riff, and punctuating the proceedings with sweet touches of high-gain, fleet-fingered blues guitar glory, Ingram gives a perfect tribute to the birthplace of the blues, showing all the while that the genre is still incredibly vital.
The Bluegrass Situation, May 13, 2021
In Their Words: "'662' is an ode to my roots, a nod to the area where I was born and raised. This is a track that encompasses how a small corner of the Earth influenced my view of life and music. This song also points to the growth I have had since my debut album. As much as I have been fortunate to get 'Outside of This Town' [his breakout single], I do want people to know that the '662' will always be a major part of who I am." — Christone "Kingfish" Ingram
Rolling Stone, by Brian Hiatt, February 29, 2019
Christone "Kingfish" Ingram, the 20-year-old blues prodigy from Clarksdale, Mississippi who made Rolling Stone's Hot List last year, is already having a big 2019: He just signed to Alligator Records, with his first album, Kingfish, due in May. He's also opening for one of his mentors, Buddy Guy, this spring, and he's spending August and September reaching a very different audience on the road with Vampire Weekend.
Rolling Stone, by Brian Hiatt, October 31, 2018
Blues prodigy Christone "Kingfish" Ingram, 19, grew up in Clarksdale, Mississippi, 10 minutes away from the crossroads where Robert Johnson supposedly did some business with Beelzebub. Ingram swears he hasn't done the same  ("Nah, I didn't do any of that") but he's one of the only young people he knows of in 21st-century Clarksdale with any interest in the city's musical legacy: "The only people who care are pretty much the elderly people," Ingram says. "I do think I have an old soul, that I've been here before."
Blues Blast Magazine, March 22, 2018
Kingfish Ingram… Young Blood Old Soul Blues.  
Christone Ingram's mom Princess loves the lessons her son has learned in the Delta Blues Museum Arts and Education Program in Clarksdale, Mississippi, but she's not quite sure she likes the way bluesman and instructor Bill Howl – N – Madd Perry called him out at the guitar classes.
Jambands.com, August 21, 2019
Vampire Weekend are on a southern US tour swing with opener Christone "Kingfish" Ingram, a young blues guitarist from Mississippi, and on Tuesday evening in Austin, TX—the first of three shows in the city—the headlining band welcomed out Ingram for a Neil Young cover during their set for ACL Live at The Moody Theater.
Billboard, by Gary Graff, May 8, 2019
Christone "Kingfish" Ingram hails from Clarksdale, Miss., and, yes, has been to the infamous crossroads. He's never met the devil there, but he did catch the music buzz and is about to release his debut album, Kingfish, whose "It Ain't Right" is premiering exclusively below.
HuffPost, by Amanda Scherker, December 6, 2017
It doesn't seem like coincidence that 15-year-old blues musician Christone Ingram boasts the nickname "Kingfish." After all, his greatest inspiration is B.B. King, the ultimate rhythm and blues icon. And Christone wants to join his ranks, as reported by My Fox Memphis.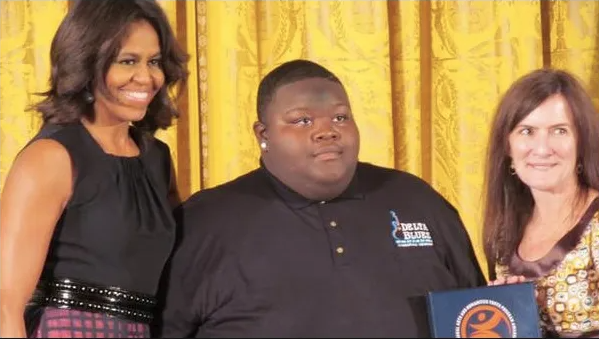 First Lady Michelle Obama, Christone "Kingfish" Ingram, and Shelley Ritter, Director of the Delta Blues Museum. Christone performed at The National Arts and Humanity Youth Program Award Ceremony at The White House.